Digital Marketing FAQs In 2021
Hey! I don't know you have the patient or passion to read this long post about Digital Marketing. But I believe if you read & practice the below topics you will definitely do well in Digital Marketing. So let's start with the Top 10 Digital Marketing FAQs In 2021.
What exactly is digital marketing?
Digital marketing is all about marketing brands or marketing products or services. It's all about marketing brands via online channels. It includes many methods or techniques like SEO, Social Media, Email marketing, PPC, Content marketing. These all aspects come under digital marketing.
In simple words, Digital Marketing is what you'll sell or promote through online channels or through the web. it's also called internet marketing.
Digital marketing is just growing your business or brand or personal brand digitally through the web and social media.
As nowadays most of the population spent their time on the web and social media platform that's why digital marketing is growing and becoming an industry. Every business and brand is using digital marketing to grow, It has tons of advantages just like the higher reach of the audience with less budget and more targeted customer.
Digital Marketing Trends of 2021
Digital marketing enthusiasts everywhere have started to search and look around for the latest trends observed. There are different digital marketing strategies that you can utilize not just for 2021 but in the coming years.
Let's have a look at some of the important Digital Marketing Trends In 2021.
Artificial Intelligence (AI) in Marketing
Augmented Reality
Voice Search Optimization
Programmatic Advertising
Chatbots
Automated Email Marketing
Video Marketing
Instagram Reels
Influencer Marketing
Geofencing (Location-Based Marketing
Hyper-local SEO
Quora Marketing
Content Marketing and BERT update
Social Media Stories
Omnichannel Marketing
Progressive Web Apps
Google Ads Smart Bidding
Vernacular SEO
B2B Digital Marketing Trends
What skills are required of a digital marketer?
The marketing industry is always evolving. For now, what I think are the most important skills for a digital marketer needs to be successful are as follows:
Soft skills
Communication
Writing – For blogs, SEO, Ad copies, social media descriptions, captions, comments
Presentation including public speaking
Working with teams
Leadership qualities including empathy, EQ
Working under pressure
Training the team
Socializing skills
How to pitch to a client it your boss or team
Technical skills including basic HTML5, CSS3, WordPress
Design skills like basic image editing- Don't afraid! You don't need to learn photoshop, learn to use apps like http://Canva.com
Video editing skills again use apps like Adobe spark video, Quikapp.
How do I learn digital marketing?
There are multiple ways to learn digital marketing. YouTube, Seminars, Webinars, Free seminars conducted by institutes, bloggers, Legends like Neil Patel, etc.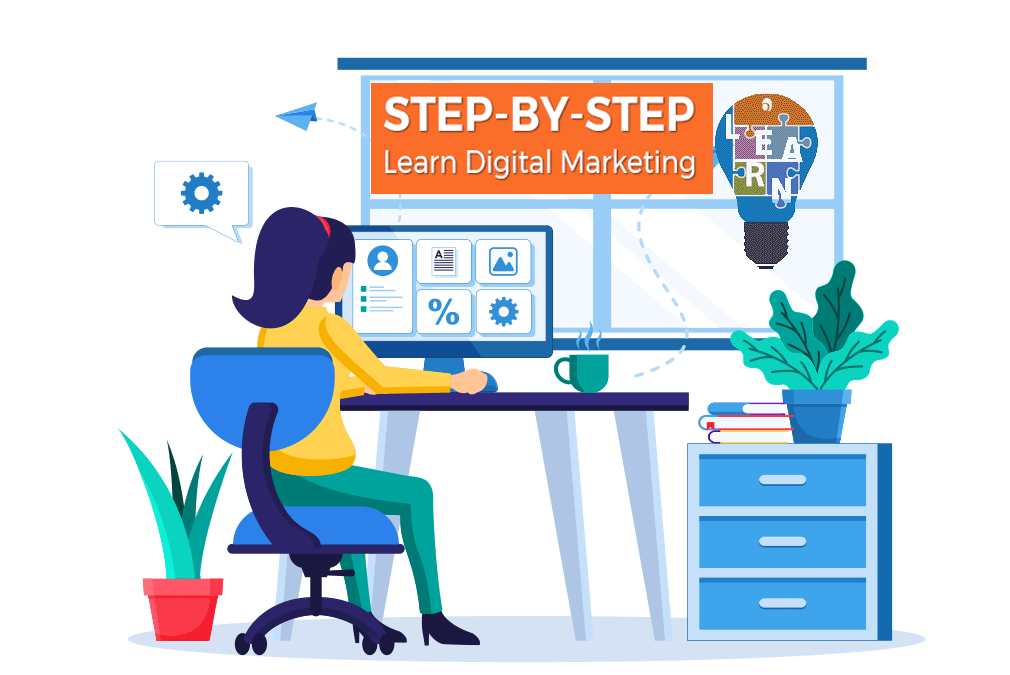 There are few ways to learn digital marketing in your home without any cost. So let's start as below steps for learning digital marketing in 3 days at home!
Day 1
What you will learn in 3 days courses?
Domains, Hosting & Websites
Breaking down a URL to understand domains, sub-domains, and TLDs?
Domain
Understanding URLs
Domain Booking
DNS- Domain Name System
Types of hosting and which is better
Hosting
Shared Hosting
Cloud Hosting
How design brings down the cost and time in website development?
Content Mapping
What is content mapping?
Why is it important?
How do you do it?
Start selling online without a domain name and hosting?
Wireframing & Designing
Importance of wireframing
Designing good websites
Accelerated Mobile Pages (AMP) that load within 5 seconds?
WordPress, Shopify, AMP
Day 2
Generate qualified and local leads on Google Ads?
Google Search
Elements of Google Search
How it works
Get free leads with Google My Business?
Google My Business
Basics of Google My Business
Register Your Business
Promote Your Business
Analytics of Google My Business
Get a list of keywords people are searching to find services & products online?
Google Ads
What are Google Ads
Basics of Google Ads
Tips & Tricks to run successful campaigns
Free Certifications & resources
Get Google certified free of cost and Track online users on your website and make data-driven decisions?
SEO
Day 3
Email & Social Media Marketing
Generate recurring leads with a single email campaign setup?
Email Marketing
List building
Single Opt In vs Double Opt In
Email Drips & Autoresponders
Tips & tricks to get more conversions
Low-cost lead generation from Facebook & Instagram?
Facebook Marketing
Facebook Pages, Groups, Events
Community Building
Facebook Ads, FB Messenger Bot
Free Certifications & resources
How to make influencers agree to work with low budgets?
Instagram Marketing
Business Profile
Hashtag Research
Ads on Instagram
Tips & tricks to grow followers on Instagram
Why LinkedIn is the best platform for B2B leads?
LinkedIn Marketing
Company Pages
Premium Linkedin Services
LinkedIn Ads
Tips & tricks to grow your business on LinkedIn
Free Certifications & resources
How to build a large community on social media?
Influencer Marketing
Identify influencers
Categorize influencers
Reaching out tips & tricks to onboard influencers
What are good ways to learn to become the best digital marketer?
Being a digital marketer and working for the top digital media company I always thrive for the latest trends and look for an opportunity to tap on.
1.READ, READ AND READ
There are many websites which will help you give insight what is going around the world like Campaign India, Campaign Middle East, Mashable, Hub Spot, Blogs on company websites, search engine land and much more.
Set up your feeds!!
EXPERIMENT
Keep experimenting with your idea. Testing gives to better idea what all can be tapped upon.
For example, working around seasonal events to drive more traffic/Conversions
A/B TESTING
Whether you're looking to increase revenue, sign-ups, social shares, or engagement, A/B testing and optimization can help you get there.
CHECK YOUR NUMBERS
Running an experiment is not enough, you have to constantly keep a track on traffic or conversions which your idea is to bring in, this analysis will help you find the untouched opportunities and idea within your own.
BUILD NETWORK / JOIN COMMUNITIES
Keep in touch with like-minded people. For this, you can even build in your own community or get involved with already existing ones.
You can connect with people on Twitter, LinkedIn, Facebook groups etc.
ONLINE CERTIFICATIONS
Build a habit to keep your knowledge fresh. Get your self-certificate!
There are various platforms which offer free as well as affordable courses, for example, Google, Udemy etc
LEARN NEW SKILLS
Internet is a pool of knowledge, all you need to have the never-dying hunger for it, especially in this hard time of recession causes by COVID19. Building in a new skill set that will give you an edge over others. Look at the things that build in your interset it's okay if it is not related to your existing field.
How do I start a career in digital marketing?
If you are starting as a digital marketer the best advice I can give you to just focus on few things. Here are 5 common steps to start your career in Digital Marketing.
Step 1. Complete a Bachelor Degree
In your position as a digital marketer, a bachelor's degree in marketing, advertising, communication or journalism can help lay the foundation that you will need. While you can complete courses in specialty areas of digital marketing, a bachelor's degree in marketing or a similar field allows you to have a formal curriculum that helps teach you digital marketing basics or find a specialty.
Step 2. Learn Vital Digital Marketing Skills
While you will get the knowledge and specialized skills from courses or a degree and diplomas, you will also gain valuable real-world experience by engaging in digital marketing internships, where you will have the ability to learn various resources that can be used to develop advertising campaigns, track their implementation and results, and retarget particular target audiences. As a digital marketer, being aware of at least some of these tools can help improve your value.
Step 3. Consider Bootcamps and Online Courses
During your quest to become a digital marketer, you may consider attending a digital marketing Bootcamp or completing a digital marketing course. Bootcamps for digital marketing typically concentrate on specific skills dedicated to a particular niche, in this case, digital marketing. Instead of covering a wide scope, these boot camps seek to cover a particular subject or topic extensively. They can also provide realistic and hands-on components that give you the opportunity while you are studying to gain real-life experience.
Digital marketing courses also allow for specialization with some basic coursework thrown in.. For entry-level applicants, these courses can be helpful as they cover the related coursework extensively. On completion, courses in digital marketing can give you a certificate.
Step 4. Get your First Entry-Level Digital Marketing Job
In digital marketing, there is a range of positions that may be open to entry-level workers. Setting yourself apart from all other future hires is an essential component of applying for the first position in digital marketing. This may be by learning distinctive and useful skills or completing an internship or Bootcamp.
Step 5. Earn a Master's Degree in Digital Marketing
Holding a master's degree in digital marketing can set you apart in terms of academic expertise in the field from other candidates. It is necessary, however, to stay up to date with the latest technologies and to continue learning. Some digital marketing degrees that you might consider include:
Master of Science (MS) in Digital Marketing and Design
MS in Digital and Social Marketing
MS in Marketing Analytics
MS in Digital Marketing Communication
MS in Global Digital Marketing
MS in Digital Marketing Strategy
How is digital marketing important for business?
How is digital marketing important for business?
Without marketing there is no business will run in the world it is very good to learn digital marketing if you start a business or it is very helpful in teaching someone and it helps others you make a lot of money if you are passionate and hard working
Why Choose Digital Marketing :
The benefits of digital marketing for businesses include:
Lower costs and higher flexibility for your marketing efforts
Access to consumers through the digital medium
An opportunity to collaborate with influencers who can publicize your brand easily and more effectively
Opportunities to promote your brand in a more interesting and engaging way
The ability to track customers' activities and figure out their preferences
Hope this helps:)
How do we earn money by digital marketing?
Some of the best ways to make money by digital marketing are as follows.
Easy & Popular Ways To Earn Money By Digital Marketing!
Make money as a content writer.
Become an SEO expert and sell SEO services.
Earn money with affiliate marketing.
Sell consulting services to companies.
Earn money by selling ads.
Work as a social media manager.
Create and sell your own digital products.
Affiliate marketing
Amazon or Flipkart affiliates
How do I start working as a freelancer in digital marketing?
You can start by:
Creating a LinkedIn profile and optimizing it. Connecting to your target audience and start posting
Bring all your work together to compile a portfolio
Get recommendations from previous clients/employers
Register on freelance marketplaces like Upwork and Wizcounsel
Join community groups on LinkedIn and Facebook
Network with people in your niche on social media, interact with them
Attend webinars to gain knowledge about how the freelancing world works
Even if you don't want to start working right now, prepare yourself so that when you start, you don't have to wait for it to start showing results.
The best time to start is TODAY
What are the top digital marketing trends of 2021?
Here are the 8 best digital marketing trends of 2021: —
Inclusivity.
Featured snippets & no-click searches.
Sustainability: loud and proud.
Ad-blocker blockers.
Image and video SEO for visual searches.
Interactive content.
Customer segmentation.
Local SEO.
That's all for today and thanks to your patients for reading this long post about Digital Marketing Trends In 2021.

Hey there; it's me! 🤠 Imam Uddin, imamuddinwp; A passionate Front-End Web Developer & SEO Expert.
I have professional experience in E-commerce Store Design on Shopify, WiX, and WordPress platforms. I have an excellent knowledge of Landing Page Design & Product Page Design with popular page builders like Elementor Pro, Shogun, PageFly, GemPage, WiX Page builder, etc.
I'm very much enthusiastic about SEO – Search Engine Optimization; On-page SEO, Off-page SEO, Technical SEO, and Local SEO.
I'm also a Microsoft Certified Professional Developer (MCPD) & Google Digital Garage certified Digital Marketing Expert.